Sharpes Property Auctions Idle Bradford - Probate Property Idle Bradford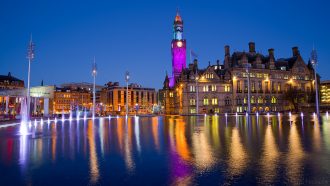 Sharpes Auctions Idle Bradford - Idle in West Yorkshire is an area situated approximately 3 miles from Bradford city center, West Yorkshire.
The name is thought to be a corruption of Idlawe. The meaning Ide's Hill, where Ida is supposed to be an Anglo Saxon settler. The village center consists of a small village green, around which are various shops, banks, pubs and eateries, including most of the village's fast food outlets.
Whether you are looking for a quick sale of your house, or interested in buying property on Idle Road, Harrogate Road, Otley Road, Norman Lane, Kings Road or surrounding areas contact Sharpes Auctions Bradford – the leading auctioneers in Idle, Bradford, providing professional and impartial advice.
Many of the houses and buildings in Idle village date back almost a century, and provide a significant remnant of Bradford's expansion during the Industrial Revolution. Idle's listed buildings can be found around Albion Road, Bradford Road, Cross Road, The Green, Greenfield Lane, Highfield Road, High Street, Howgate, Ley Fleaks Road, Town Lane, and Westfield Lane.
Enterprise 5 in Idle Bradford- A retail complex largely consisting of a Wickes, McDonald's and a Morrison's supermarket.
Sharpes Auctions in Idle Bradford have a successful track record of selling all types of property in Idle – be it land, houses, bungalows, flats or commercial buildings.
Which areas can we do free valuations for?
Free Property Valuation Bury, Free Property Valuation Wakefield, Free Property Valuation Keighley, Free Property Valuation Skipton, Free Property Valuation Nelson, Free Property Valuation Halifax, Free Property Valuation Wakefield, Free Property Valuation Huddersfield, Free Property Valuation Leeds, and all other areas across Yorkshire and Lancashire.
Can we assist in stopping repossession?
Yes of course,  we can Stop Repossession Bradford, Stop Repossession Leeds, Stop Repossession Halifax, Stop Repossession Huddersfield, Stop Repossession Wakefield, Stop Repossession Harrogate, Stop Repossession Pontefract, Stop Repossession Rotherham, Stop Repossession fast Sheffield and all surrounding areas in Yorkshire and Lancashire. 
If you require an Auctioneer service in Idle Bradford, advice on selling your property contact Sharpes Auctions, we are a local Auctioneer service in Idle Bradford West Yorkshire.
Sharpes Auctions in Idle - 01274 731217